The Top States Millennials Are Moving To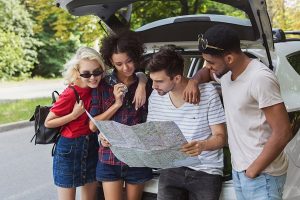 Why Are Millennials Moving To These States?
Top States Millennials Are Moving To – Today's commentary is on the migration of millennials. Many of Gen-X and millennials(28-34) are starting to move north, and to the east. There are many studies that have come out lately confirming this theory. We explore why below.
Just to be clear, you would have thought that 18-34-year-olds would want to move to Florida. We say that because many older men and women are making the switch and moving from the north to the south in record numbers. However, when it comes to millennials and Gen X, things are different. The main reason behind this move is due to jobs. Here is a breakdown of why many millennials and Gen-X used our services for their next adventure destination.
A new job to transfer within the company(that is the number one).
Some wanted to be closer to friend and family and It turns out, that most millennials have more friends and family in New York, Washington, D.C, and Pennsylvania than they do in places like Florida and South Carolina.
The third reason for long distance moving is because they want to retire. Hey, some have made enough money (in their early 30s) to retire.
Washington, D.C.
According to a recent study, more than 70% of men and women have order
moving services
for a change in job or transfer. To be fair, you do get some rewarding career incentives by moving to the nations' capital. Some of the more popular career fields in Washington include the tech world, hospitality, and science and innovation.
Minnesota
Some of the top fields include technology, healthcare, finance, and business. Yes, we are talking about the "bread and butter" state. Plus, the state is filled with lots of lakes and mountains. Anyone who is interested in that sort of thing will find enjoyment there.
Rhode Island
It was back in 2015 when GQ magazine called Rhode Island the place for "young people". There is also a close proximity to place like Boston and New York. Most men and women find themselves going back and forth between New York, Boston, and Rhode Island in any way or another. Rhode Island is known for its food and culture. Rhode Island also offers prestigious academic choices for students, as well as financial options that most of you would not get elsewhere. It might be one of the smaller states up North, but it has booming enterprises, and many business opportunities that you do not want to miss out on.
Massachusetts
Yes. This is the home state for Senator Elizabeth Warren. Massachusetts is also home to multiple Fortune 500 companies. You might know some on the list. That list includes companies like Liberty Mutual(everyone has heard of that one), TJX, and GE. These companies are currently recruiting new candidates to top positions. That is also why so many millennials and Gen-X men and women have gave notice of their transfer. You want to be where the action is happening.
Boston is probably the most popular city in Massachusetts. Boston boasts jobs for people in the biotech field, engineering, finance, and trade(just to name a few). Boston is also an exciting city to live in. There is plenty to keep you busy with the night life. Boston is currently attracting many young and bright heavyweights to its various fields. A lot of wonderful news correspondents and journalists also make their homes here. You really should consider Boston if you are looking to move up North and to the East.
Louisiana
Now, some of you might not consider Louisiana as A northern state(and you would be right). However, Louisiana is to the east. That it is why it makes the list. Some of you are probably still shaking your heads, so here is the explanation. You are going to find a highly motivated workforce here. You will also find a very pro-business climate and atmosphere. The infrastructure is sound too(in most areas). Louisiana also has one of the highest recruitment and training programs in the country. Remember that a lot of millennials are moving for a job. You have to link the two together. You will find some of the industry heavy hitters here including software development, water management, and manufacturing.
Those of you looking to move due to job placement should have no issue. You will have more than enough to keep yourself busy(especially if you get recruited by a major firm). Some of those firms include Century Link and Turner Industries. Those are big companies. Any of you who score a job with the will have no regrets. You will be working for companies considered the best of the best. There is also a lot to do concerning the nightlife (depending on where you live). You will also be living in semi-tropical climate(kind of like here in Florida). Those of you who like the heat will enjoy it.
The Migration Begins
Things change. You used to hear that places like Florida, New Mexico, and Arizona were the places to be(especially during retirement). They might still be on the list(to a certain degree), but those states are now being placed in the "what used to be" category. You will find the states listed above are the main spots to move. Some of the Californians are even moving to Texas. Funny how that happens.
"We Move Anywhere" Moving Company
Are you looking to make a move anytime soon? Why not call
"We Move Anywhere"
for some help to your next destination to New York, Louisiana, Massachusetts, or wherever you need to go.
"We Move Anywhere"
services will help you in any way they can. Visit the site today.